English
Phonics
At Whipton Barton Federation, we aim for all of our children to leave our school as highly skilled readers. We do this by providing them with high-quality systematic phonics, taught daily, access to a range of high quality texts in our classrooms and library and sending books home which match to their phonic knowledge.
Read Write Inc is a comprehensive program designed to develop children's phonic knowledge, reading and writing skills holistically. The children are assessed half-termly and streamed successfully according to their phonics knowledge. We run a number of phonics groups ranging from teaching initial sounds, learning to blend words, and reading with fluency and expression.
The ethos of the program centres on the five P's – Purpose, Participation, Praise, Partners and Pace. The Reading Teachers work hard to ensure this is at the heart of learning and children know what to expect from each session because of this.
As a result of the successful implementation of the program, our children are able to:
Participate actively in an engaging phonics session, where they are applying their sound knowledge into spelling and reading instantly.
Read with increased ease, fluency and enjoyment to a range of audiences – peers, teachers and parents.
Successfully use a range of strategies to write with independence.
See themselves as fantastic readers and writers who can access the whole curriculum with confidence.
It is vital that children learn to say the sounds correctly. This video shows all the correct pronunciations.
We have produced some parent information booklets to provide you with more information about how your child will learn to read. Below you will also find a letter formation chart with the rhymes that we use to help children learn how to form their letters correctly. We also host regular parent information meetings and our Facebook page is regularly updated with bitesize pieces of information to help you to help your child.
Reading
At Whipton Barton Federation, we love reading and value the many benefits that it provides. We believe it is key for academic success and it plays a big part across our Curriculum on a daily basis. We promote a reading culture that inspires children to love reading, makes them want to read and helps them to develop into ardent, avid readers and life-long learners.
"The more that you read, the more things you will know. The more that you learn, the more places you'll go!"

Dr. Seuss
All children, from Nursery to Year 6, visit our Library each week; sessions can include input from adults about different authors, discussing and listening to stories or children can take out a book to take home and share with their family.
Children are able to use our Library for collaborative learning and developing independent research skills. Our Library Assistant supports children and staff in using the Library effectively and along with our pupil Library Monitors, helps to keep it organised, updated and accessible to all. Children in Years 2 to 6 follow Accelerated Reader (AR) - a reading management and monitoring programme that aims to foster independent reading. The internet-based software assesses reading age, and suggests books that match pupils' needs and interests. Pupils take computerised quizzes on the books and earn AR points as they progress.
We love Accelerated Reader for the following reasons:
The programme gives children significantly greater choice in levelled books that offer appropriate challenge.
It provides immediate and regular feedback to children.
Accelerated Reader allows teachers to make in depth and accurate assessments of children's reading and comprehension.
Crucially, it motivates children to read independently and more frequently.
A love of reading is developed and fostered!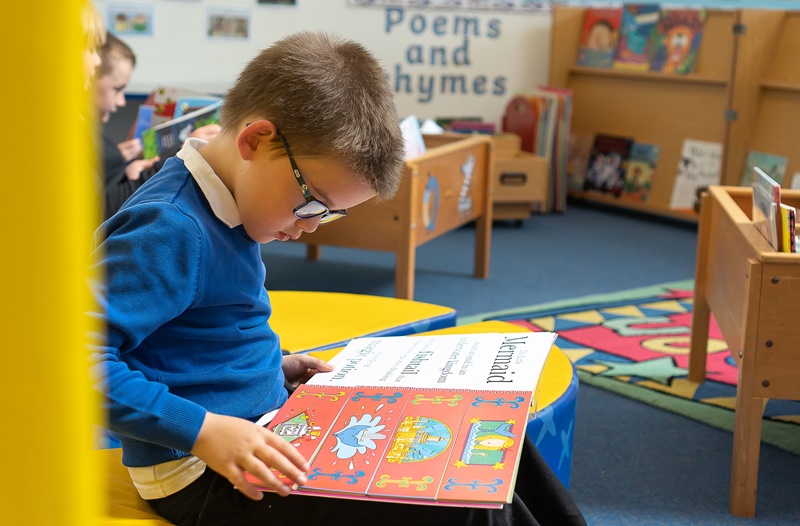 Children are able to choose books within their level from the Library. We work with our local Schools' Library Service to keep our book stock current and to ensure that we have something for everyone. Children are encouraged to recommend books to each other and to make suggestions to staff of any books that they'd like to see in our selection.
Children who are not yet following AR will take home a range of decodable phonics books that are matched to their phonics stage. The children will take home a book at the start of the week to practise the skills of decoding, comprehension and prosody. The second book the children will take home is their celebration read. The book that has been taught in school that week to build confidence and show success made. Adults will regularly listen to children read to assess their fluency and understanding and then match this to the appropriate book level. We expect families to regularly read with their children at home and make comments in their child's reading record.
In Early Reading, we recommend that children read their book three times at home; these sessions are designed to focus on three key reading skills:
decoding
prosody – reading with meaning, stress and intonation
comprehension – understanding the text
Years 2 to 6 have daily whole class Guided Reading lessons which focus on a different book each term; these are quality texts chosen by the English Leader and supported by Literacy Shed+. Adults and children read the book together and the discussions and learning are focused around skills such as fact retrieval, inference, understanding an author's choice of punctuation and vocabulary or summarising what they have read so far.
All year groups have Drop Everything and Read (DEAR) sessions at least once a day. This might involve the children reading independently to promote their reading for pleasure or being read to by the class teacher; it is a time for everyone to literally drop everything and enjoy reading, nothing else! We have carefully selected a rich range of DEAR books for the teachers to read to the classes – this selection incorporates five types of texts that children should have access to in order to successfully navigate reading with confidence. For example, texts with: archaic language, non-linear time sequences, complex narratives, figurative and symbolic elements and resistant meaning. Each classroom will have a selection of books in their classroom which is directly linked with the class topic. This offers opportunities for the children to apply their reading skills across the curriculum and further develop their understanding and knowledge of their current topic.
"Reading is to the mind what exercise is to the body."

Joseph Addison
Writing
At Whipton Barton Federation, we endeavour to create a love for writing.
We want every child to leave the Federation with the skills of an excellent writer who:
Has the ability to write with fluency and has an author's voice;
Thinks about the impact they want their writing to have on the reader and knows how they will achieve this;
Has a sophisticated bank of vocabulary and an excellent knowledge of writing techniques to extend details or description;
Can structure and organise their writing to suit the genre they are writing and include a variety of sentence structures;
Displays excellent transcription skills that ensure their writing is well presented, punctuated, spelled correctly and neatly;
Re-reads, edits and improves their writing so every piece of writing they produce is to the best of their ability and better than the last.
Throughout their time at Whipton Barton Federation, children develop their writing skills by exploring a whole range of different genres. We expect the highest standards of writing every time a child writes in any subject, not just in English lessons, and place great importance on the planning, drafting, editing and rewriting process when writing at length. Teachers plan their writing sessions using Babcock 'Texts that Teach', No Nonsense Literacy, No Nonsense Grammar and Hamilton Trust resources. Some of the genres that the children will experience are as follows:
FICTION
Adventure
Fantasy
Classic fiction Plays and dialogue
Myths / Legends
Fairy tales
Fables / Traditional tales
Stories from other cultures
NON-FICTION
Letters
Information texts
Explanation texts
Instructions
Persuasion texts
Non-chronological reports
Recounts
Argument and debate